Description
Perfume for women 
The brand of individuality, excitement, and self-expression. Empowers every girl with a sense of freedom and multiplicity, embraces the enthusiasm for life, and offers an energy boost and vividness. Your perfume is your message, your scented slogan.
Be yourself, simply ... B. U.! 
Top Notes: Bergamot, Red Berries
Heart: Rose, Freesia, 
Base: Musk, Sandalwood, Vanilla
Specifications
Fragrance Type

Eau de Toilette

Size

50 mL (1.7 oz)

Condition

New, Not Specified
Public Questions
There are no messages posted.
You need to be logged in to ask the seller a question.
Click here to login
Travel Around The World Wrist Watch for Women New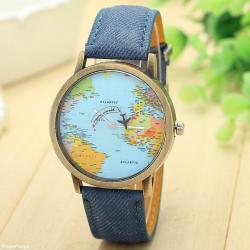 Wanderlust Wrist Watch for Women Travel Around The World Map of the World Plane Hand New
Wanderlust Wrist Watch for Women Travel Around The World Map of the World Plane Hand New